Skip to product information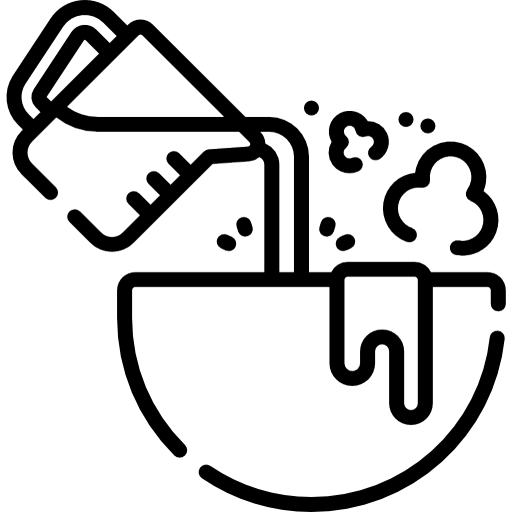 Pure Ingredients

Premium Packaging

Freshness Guaranteed

Long Shelf Life
Experience the rich and creamy delight of Lal Sweets Milk Cake, a traditional Indian sweet crafted with pure milk. Made with premium quality ingredients, this handcrafted perfection offers an exquisite taste that melts in your mouth. Lal Sweets, known for its authentic sweets and namkeens, presents Milk Cake as a perfect treat for festive occasions, evoking a sense of nostalgic indulgence and celebrating the artistry of its creation. Each bite of this signature sweet is satisfying and fulfilling, showcasing the ghee-infused goodness that complements the finest milk and sugar used in its preparation. It's also an excellent choice for festive gifting, allowing others to experience the delightful sweetness of Milk Cake Premium.
Regular price
Rs. 699
Sale price
Rs. 319
Unit price
per
Sale
Sold out
Key Details

Rich and Creamy Delight:

Lal Sweets Milk Cake provides a rich and creamy texture that satisfies your sweet cravings with every bite.

Made with Pure Milk:

This traditional sweet is made with pure milk, ensuring the highest quality and authentic taste.

Premium Quality Ingredients:

Lal Sweets ensures the use of premium quality ingredients to create the finest Milk Cake.

Melts in Your Mouth:

Experience the delightful sensation as Milk Cake melts in your mouth, leaving a lasting impression.

Perfect for Festive Occasions:

Milk Cake is an ideal treat for festive occasions, adding joy and sweetness to your celebrations.

Nostalgic Indulgence:

Each bite of Milk Cake evokes a sense of nostalgic indulgence, taking you back to the authentic flavours of traditional sweets.

Excellent Festive Gifting Option:

Share the delight of Milk Cake with your loved ones as a thoughtful and delicious festive gift.
Key Ingredients

Sugar, Milk Solids, Refined Edible Palmolein Oil & Cardamom Powder
Shelf Life

75 Days: Each pack of Lal Sweets Milk Cake is carefully sealed to maintain its freshness and has a shelf life of 75 Days, ensuring you can enjoy its exquisite taste for an extended period.
View full details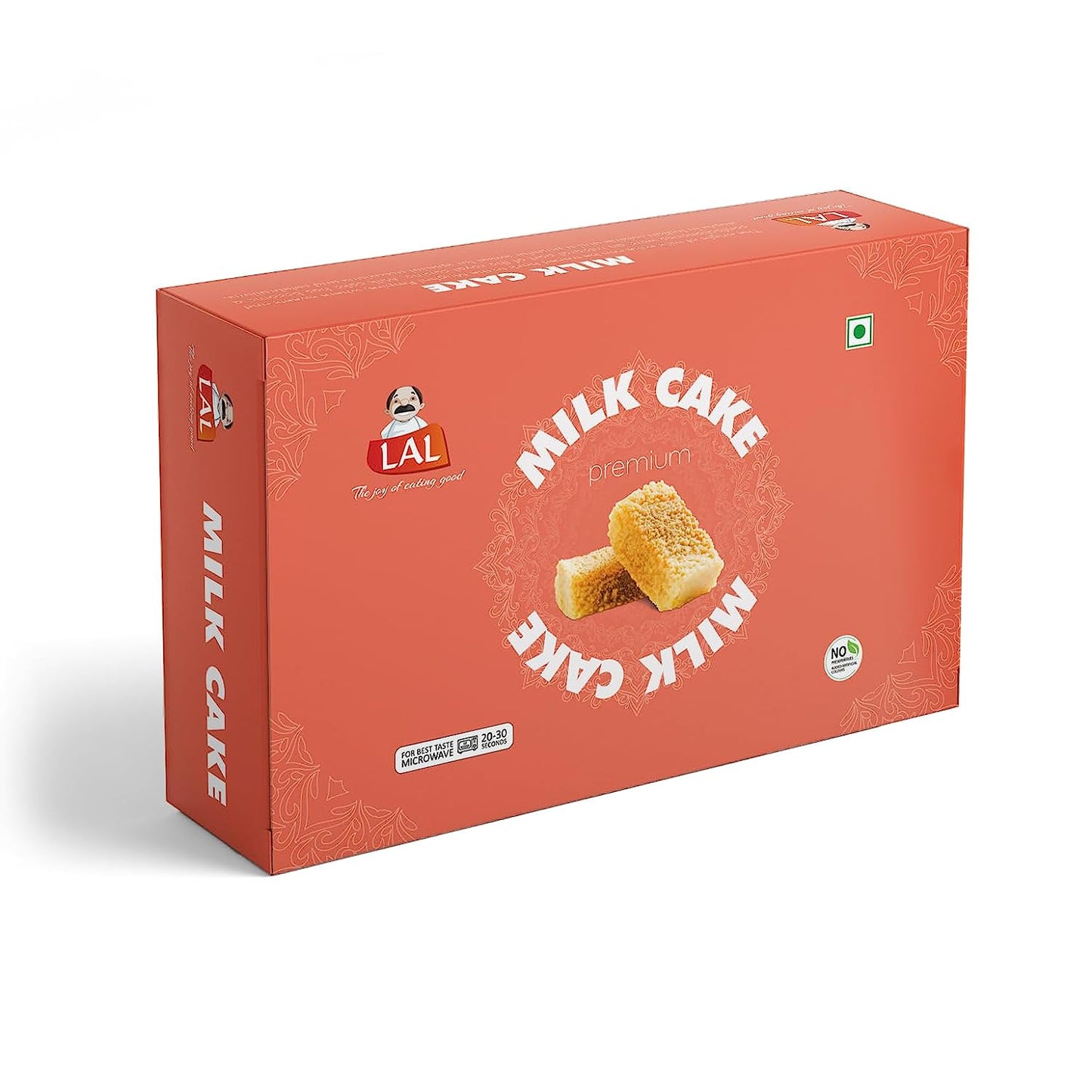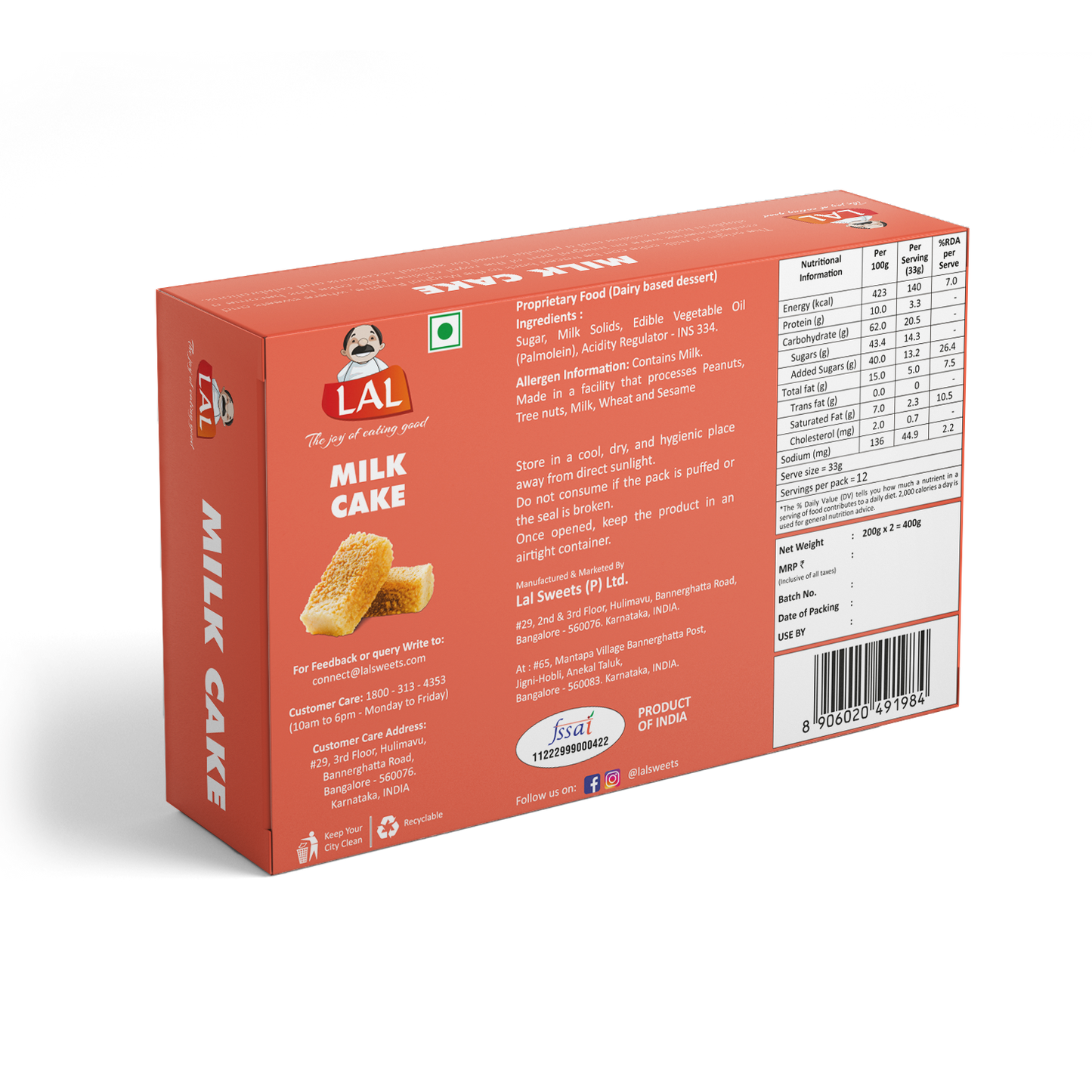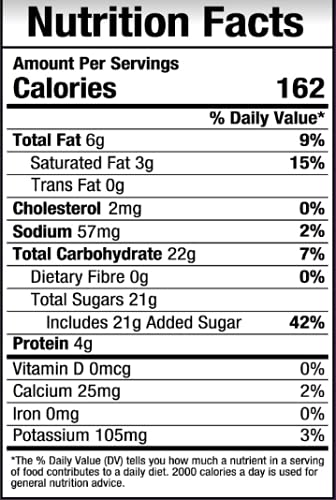 Collapsible content
FAQ

Thank you for choosing our store for your sweet cravings! Here are some frequently asked questions to help you navigate your sweet journey:

When it comes to storing your delightful treats, we recommend keeping them fresh by storing them in an airtight container. Find a cool and dry place away from direct sunlight to ensure the best quality and taste.

We understand that dietary restrictions can be a concern. That's why we offer a wide range of options to cater to various needs. Whether you follow a vegan, gluten-free, or sugar-free diet, we have delicious sweets specially crafted for you. Check the product descriptions or reach out to our helpful customer service team for specific information.

Looking for a sweet surprise for someone special? We've got you covered! Create a personalized gift box by selecting your favorite sweets, and we'll pack them with love, making it a unique and thoughtful present for your loved ones.
Shipping

Sit back, relax, and let us handle the shipping details. We provide a seamless shipping experience to ensure your sweets reach you in a timely manner.

Choose from our range of shipping options during the checkout process. We offer both standard and express delivery to cater to your needs and preferences. You'll find the available methods and estimated delivery times conveniently displayed for your convenience.

We're happy to serve customers worldwide! Yes, we offer international shipping, so you can enjoy our delectable sweets no matter where you are. Please keep in mind that additional customs fees or import taxes may apply based on your destination country. It's important to note that customers are responsible for any applicable fees.

Rest assured, we prioritize the safe delivery of your sweets. Our dedicated team takes extra care when packaging your treats to ensure they arrive in perfect condition. We utilize protective materials and secure packaging to safeguard against any damage during transit. Your satisfaction is our top priority.
Returns & Refunds

We strive to provide the best possible experience with our sweets, but we understand that sometimes issues may arise. Here's our policy regarding returns and refunds:

Due to the nature of our food items, we cannot accept returns for sweets. However, if you encounter any problems with your order, please don't hesitate to reach out to our friendly customer service team. We're here to assist you and find a suitable solution to address any concerns you may have.

In the unlikely event that your package arrives damaged, we apologize for any inconvenience caused. Please contact our customer service team immediately with your order details and include a photo of the damaged package. We will work closely with you to find the best resolution, whether it's a replacement or refund, ensuring your satisfaction.

If you need to cancel your order, we understand that circumstances may change. Please get in touch with us as soon as possible, and we'll assess the order status and fulfillment process. Depending on the situation, we'll do our best to accommodate your request for a refund. Your happiness matters to us, and we're here to assist you throughout the process.
Food Certifications

We prioritize food certifications to ensure the utmost quality and compliance with industry standards for our sweets. One of the certifications we hold is the Organic Certification, which validates that our organic sweets are produced using organic ingredients and manufactured without the use of synthetic additives or pesticides. This certification provides assurance that our products are sourced sustainably and align with organic farming practices.

Additionally, we have obtained Gluten-Free Certification for our gluten-free sweets. This certification guarantees that our products are free from gluten-containing ingredients and have been manufactured in a gluten-free facility. We understand the importance of providing safe options for individuals with gluten sensitivities or celiac disease, and this certification ensures that our sweets meet the strict standards necessary to accommodate their dietary needs.

Furthermore, we hold a Kosher Certification, which signifies that our sweets adhere to the dietary requirements of kosher observance. This certification ensures that our products are produced according to the strict guidelines outlined by the relevant kosher authorities, providing peace of mind for those seeking kosher-certified sweets.

By obtaining these food certifications, we demonstrate our commitment to delivering high-quality, safe, and inclusive sweets that cater to a range of dietary preferences and requirements. Our goal is to provide our customers with delicious treats they can enjoy with confidence, knowing that they meet rigorous industry standards and certifications.